Irfan Pathan - India stats, Net worth, profile, age, career info, records, career stats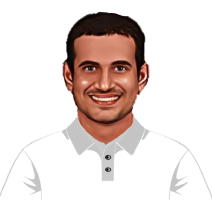 Full Name
Irfan Pathan
Born
October 27th, 1984
Nationality
India
Role
All Rounder
Career Stats
| Format | MAT | INNS | NO | RUNS | HS | AVG | BF | SR | 100s | 50s | 6s | 4s |
| --- | --- | --- | --- | --- | --- | --- | --- | --- | --- | --- | --- | --- |
| Test | 29 | 40 | 5 | 1105 | 102 | 31.57 | 2076 | 53.22 | 1 | 6 | 18 | 131 |
| ODI | 120 | 87 | 21 | 1544 | 83 | 23.39 | 1941 | 79.54 | - | 5 | 37 | 142 |
| T20I | 24 | 14 | 7 | 172 | 33 | 24.57 | 144 | 119.44 | - | - | 7 | 9 |
| T20 | 181 | 142 | 54 | 2020 | 65 | 22.95 | 1628 | 124.07 | - | 2 | 70 | 150 |
| List A | 193 | 143 | 33 | 2454 | 83 | 22.30 | 3073 | 79.85 | - | 9 | - | - |
| 1st Class | 122 | 179 | 29 | 4559 | 121 | 30.39 | - | - | 3 | 26 | - | - |
| t10 | 16 | 12 | 5 | 153 | 37 | 21.86 | 89 | 171.91 | - | - | 8 | 17 |
| Format | MAT | INNS | OVR | RUNS | WK | BBI | AVG | ECN | SR | 4W | 5W |
| --- | --- | --- | --- | --- | --- | --- | --- | --- | --- | --- | --- |
| Test | 29 | 54 | 980.4 | 3226 | 100 | 7/59 | 32.26 | 3.28 | 58.8 | 2 | 7 |
| ODI | 120 | 118 | 975.5 | 5142 | 173 | 5/27 | 29.72 | 5.26 | 33.8 | 5 | 2 |
| T20I | 24 | 23 | 77 | 618 | 28 | 3/16 | 22.07 | 8.02 | 16.5 | - | - |
| T20 | 181 | 175 | 601 | 4568 | 173 | 5/13 | 26.40 | 7.60 | 20.8 | 2 | 1 |
| List A | 193 | - | 1560.5 | 7898 | 272 | 5/27 | 29.03 | 5.06 | 34.4 | 7 | 2 |
| 1st Class | 122 | - | 3505.4 | 10880 | 384 | 7/35 | 28.33 | 3.10 | 54.7 | - | 19 |
| t10 | 16 | 6 | 8 | 95 | 1 | 0/21 | 95.00 | 11.88 | 48.00 | - | - |
TOURNAMENT STATS
Indian Premier League
| MAT | INNS | NO | RUNS | HS | AVG | BF | SR | 100s | 50s | 6s | 4s |
| --- | --- | --- | --- | --- | --- | --- | --- | --- | --- | --- | --- |
| 103 | 82 | 29 | 1139 | 60 | 21.49 | 946 | 120.40 | - | 1 | 37 | 88 |
| MAT | INNS | OVR | RUNS | WK | BBI | AVG | ECN | SR | 4W | 5W |
| --- | --- | --- | --- | --- | --- | --- | --- | --- | --- | --- |
| 103 | 101 | 339.5 | 2649 | 80 | - | 33.11 | 7.78 | 25.54 | - | - |
Ranji Trophy
| MAT | INNS | NO | RUNS | HS | AVG | BF | SR | 100s | 50s | 6s | 4s |
| --- | --- | --- | --- | --- | --- | --- | --- | --- | --- | --- | --- |
| 17 | 32 | 4 | 753 | 91 | 26.89 | 1269 | 59.34 | - | 5 | 16 | 95 |
| MAT | INNS | OVR | RUNS | WK | BBI | AVG | ECN | SR | 4W | 5W |
| --- | --- | --- | --- | --- | --- | --- | --- | --- | --- | --- |
| 17 | 27 | 352.6 | 1011 | 32 | - | 31.59 | 2.86 | 66.19 | 1 | 1 |
ICC Men's T20 World Cup
| MAT | INNS | NO | RUNS | HS | AVG | BF | SR | 100s | 50s | 6s | 4s |
| --- | --- | --- | --- | --- | --- | --- | --- | --- | --- | --- | --- |
| 15 | 10 | 5 | 86 | 31 | 17.20 | 74 | 116.22 | - | - | 4 | 6 |
| MAT | INNS | OVR | RUNS | WK | BBI | AVG | ECN | SR | 4W | 5W |
| --- | --- | --- | --- | --- | --- | --- | --- | --- | --- | --- |
| 15 | 14 | 29 | 321 | 16 | - | 20.06 | 11.07 | 10.88 | - | - |
Vijay Hazare Trophy
| MAT | INNS | NO | RUNS | HS | AVG | BF | SR | 100s | 50s | 6s | 4s |
| --- | --- | --- | --- | --- | --- | --- | --- | --- | --- | --- | --- |
| 16 | 15 | 3 | 214 | 50 | 17.83 | 287 | 74.56 | - | 1 | 6 | 16 |
| MAT | INNS | OVR | RUNS | WK | BBI | AVG | ECN | SR | 4W | 5W |
| --- | --- | --- | --- | --- | --- | --- | --- | --- | --- | --- |
| 16 | 16 | 113.4 | 520 | 18 | - | 28.89 | 4.57 | 37.89 | - | - |
Lanka Premier League
| MAT | INNS | NO | RUNS | HS | AVG | BF | SR | 100s | 50s | 6s | 4s |
| --- | --- | --- | --- | --- | --- | --- | --- | --- | --- | --- | --- |
| 4 | 3 | 1 | 54 | 25 | 27.00 | 61 | 88.52 | - | - | - | 6 |
| MAT | INNS | OVR | RUNS | WK | BBI | AVG | ECN | SR | 4W | 5W |
| --- | --- | --- | --- | --- | --- | --- | --- | --- | --- | --- |
| 4 | 3 | - | 39 | - | - | - | - | - | - | - |
Syed Mushtaq Ali Trophy
| MAT | INNS | NO | RUNS | HS | AVG | BF | SR | 100s | 50s | 6s | 4s |
| --- | --- | --- | --- | --- | --- | --- | --- | --- | --- | --- | --- |
| 5 | 4 | 2 | 50 | 26 | 25.00 | 30 | 166.67 | - | - | 3 | 4 |
| MAT | INNS | OVR | RUNS | WK | BBI | AVG | ECN | SR | 4W | 5W |
| --- | --- | --- | --- | --- | --- | --- | --- | --- | --- | --- |
| 5 | 5 | 18 | 151 | 4 | - | 37.75 | 8.39 | 27.00 | - | - |
ICC Champions Trophy
| MAT | INNS | NO | RUNS | HS | AVG | BF | SR | 100s | 50s | 6s | 4s |
| --- | --- | --- | --- | --- | --- | --- | --- | --- | --- | --- | --- |
| 3 | 3 | - | 29 | 19 | 9.67 | 47 | 61.70 | - | - | - | 5 |
| MAT | INNS | OVR | RUNS | WK | BBI | AVG | ECN | SR | 4W | 5W |
| --- | --- | --- | --- | --- | --- | --- | --- | --- | --- | --- |
| 3 | 3 | 20 | 96 | 4 | - | 24.00 | 4.80 | 30.00 | - | - |
LAST TEN MATCHES
| Title | NO | RUNS | HS | AVG | BF | SR | 100s | 50s | 6s | 4s |
| --- | --- | --- | --- | --- | --- | --- | --- | --- | --- | --- |
| New York Warriors vs California Knights | - | 1 | 1 | 1.00 | 3 | 33.33 | - | - | - | - |
| New Jersey Triton's vs California Knights | 1 | 31 | 31 | - | 13 | 238.46 | - | - | 2 | 4 |
| New York Warriors vs California Knights | 1 | 7 | 7 | - | 7 | 100.00 | - | - | - | 1 |
| Morrisville Unity vs California Knights | - | 9 | 9 | 9.00 | 8 | 112.50 | - | - | - | 1 |
| New Jersey Triton's vs California Knights | - | 1 | 1 | - | 3 | 33.33 | - | - | - | - |
| Durban Qalanders vs Harare Hurricanes | - | 5 | 5 | 5.00 | 7 | 71.43 | - | - | - | - |
| Harare Hurricanes vs Joburg Buffaloes | 1 | 10 | 10 | - | 6 | 166.67 | - | - | 1 | - |
| Bulawayo Braves vs Harare Hurricanes | 1 | 18 | 18 | - | 9 | 200.00 | - | - | - | 4 |
| Joburg Buffaloes vs Harare Hurricanes | 1 | 15 | 15 | - | 8 | 187.50 | - | - | 1 | 1 |
| Harare Hurricanes vs Durban Qalanders | - | 37 | 37 | 37.00 | 14 | 264.29 | - | - | 4 | 2 |
| Title | OVR | RUNS | WK | BBI | AVG | ECN | SR | 4W | 5W |
| --- | --- | --- | --- | --- | --- | --- | --- | --- | --- |
| California Knights vs Texas Chargers | 1 | 22 | - | 0/22 | - | 22.00 | - | - | - |
| New York Warriors vs California Knights | 1 | 9 | - | 0/9 | - | 9.00 | - | - | - |
| New Jersey Triton's vs California Knights | 1 | 13 | - | 0/13 | - | 13.00 | - | - | - |
| California Knights vs Atlanta Riders | 2 | 13 | 1 | 1/13 | - | 6.50 | 12.00 | - | - |
| New York Warriors vs California Knights | 2 | 17 | - | 0/17 | - | 8.50 | - | - | - |
| Harare Hurricanes vs Cape Town Samp Army | 1 | 21 | - | 0/21 | - | 21.00 | - | - | - |
| Chandigarh Champs vs Vizag Titans | 1 | 19 | - | 0/19 | - | 19.00 | - | - | - |
| Indore Knights vs Chandigarh Champs | 1 | 10 | - | 0/10 | - | 10.00 | - | - | - |
| Asia Lions vs India Maharajas | 4 | 30 | - | 0/30 | - | 7.50 | - | - | - |
| India Maharajas vs World Giants | 3.4 | 38 | - | 0/38 | - | 10.36 | - | - | - |
ABOUT
Irfan Pathan - India currently plays for India. Irfan Pathan Age is 39 years old .
Irfan Pathan statistics news , age career, and career statistics, live Bullscore ratings, Heatmap and video highlights may be available on Bullscore for some of Irfan Pathan and India matches.
Irfan Pathan-Cricket Participant profile displays all contests and games together with numbers for all of the games he played .